Rangeley Family Medicine
Our Medical Services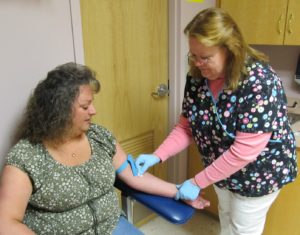 Rangeley Family Medicine is operated by HealthReach Community Health Centers with support from Rangeley Health and Wellness and the taxpayers of Rangeley and surrounding communities. RFM is located at 42 Dallas Hill Road in Rangeley and provides a full range of primary medical care to patients of all ages including routine physicals, chronic and acute medical visits, laboratory services and minor surgery.
Brief history. Rangeley Health and Wellness began in 1993 as a grassroots initiative that, in partnership with the Kennebec Valley Regional Health Agency, resulted in the opening of what was then known as the Rangeley Region Health Center. In 1995, we constructed and equipped a new state-of-the-art facility that we leased to the health center. Now known as Rangeley Family Medicine, our community medical center services more than 1,500 residents and visitors annually providing stable, locally-based, high quality primary health care.
Services
Breast and cervical health screening
Care of acute and chronic illnesses
EKGs
Equipment loan program
Family planning
Immunizations for children and adults
Minor office surgery
Nutrition, exercise and lifestyle counseling
On-call coverage - 24/7
Preventative care
Reduced fee and prescription assistance
School, sports physicals
We Also Treat
Asthma, Allergies, Bee stings, Bug bites, Diabetes, Lacerations, Poison ivy, Sunburns, Sprained ankles, Swimmers Ear, Misplaced fish hooks
To schedule an Appointment
please call:
207-864-3303
After Hours:
800-398-6031
Hours of operation:
Mon-Wed-Thu-Fri: 8:00am to 4:30pm
Tue: 9:00am to 6:00pm
Payments
Co-pays and amounts due for services not covered by health insurance are payable at the time of service. Personal checks, cash, and American Express, MasterCard or Visa are accepted. Reduced fee and prescription assistance programs are available for those who qualify. Please feel free to ask the Rangeley Family Medicine staff for details.