Fitness Center, Personal Training & Classes
Affordable Gym Membership
State-of-the-art fitness facility with the best view in town
Starting at $40/month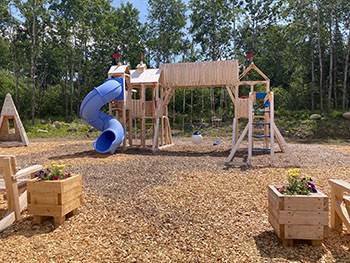 Wellness Woods was born out of a vision to create a safe, dynamic outdoor landscape for learning & play in a space inspired by nature. As our existing playground adjacent to Rangeley Family Medicine was showing its age, the timing was perfect to reinvent the space. Inspired by board member Beth Brunswick, board Vice President Jim Higgins assembled a capable team and spearheads the project. Now, just one year later, Wellness Woods is providing hours of outdoor entertainment for our community's children. The playscape, climbing wall, balance beam, teepee village and stage are complete. A new shed was added to house equipment and the landscape is adorned with wooden benches, flowering planters and paths creating an inviting and playful environment for all ages. Future phases include a covered pavilion, an adaptive swing and ADA compliant walking paths.
The adage "it takes a Village…" is certainly true. Wellness Woods came to life through the commitment of our donors, local businesses, dedicated volunteers, staff, and board members who embraced the vision and remain committed to its completion. Special thanks to these community partners who rolled up their sleeves to create this amazing outdoor space: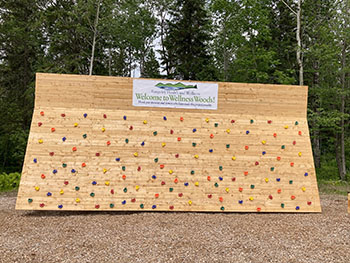 Julie Bernstein, Jim & Joanne Dickson, Courtney Ellis, Jim & Debby Higgins, Sara Higgins, Mark Morton, Bob & Leeanna Wilbur, Ken Wyman, Mark Beauregard Inc., Mike Cerminara Landscaping-Mike & Marley Cerminara, Cousineau Inc. – Randy Cousineau, M & H Construction, Morrill Excavating – Steve Morrill, Perry Transport – Peter and Krista Perry, Sunrise View Farm – Brian and Priscilla St. Louis and E.L. Vining Construction – Judy Vining
Rangeley Health & Wellness
RHW is a non profit 501(c)3 whose mission is to facilitate and promote health and wellness in the Rangeley Lakes region. We are generously supported by individual donors, private foundations, grants, municipal funds, special events and a host of dedicated volunteers. We are here for your well-being!
Gym Hours
Monday-Friday: 5am - 7.30pm | Saturday & Sunday : 8am - 2pm
Mailing Address
PO Box 722, Rangeley, ME 04970
Physical Address
25 Dallas Hill Road, Rangeley, ME 04970