A State of the Art Fitness Center with a Spectacular View
Fully-equipped gym with separate exercise areas, dance/martial arts studio, aquatic fitness/therapy pool, locker rooms, outdoor/indoor pickleball court and playing fields.
Daily operating schedule
Monday thru Friday: 5:00 AM to 8:00 PM
Saturday and Sunday: 8:00 AM to 2:00 PM
RHW CLOSED ON
New Year's day | July 4th | Thanksgiving Day | Christmas Day
RHW SPECIAL HOURS ON
New Year's Eve | Memorial Day | Labor Day | Christmas Eve
Phone: 207-864-3055
Our Therapy Pool is open subject to availability during Fitness Center hours.  Pool use for members is free, for nonmembers the cost is $10 per visit. Ages three to thirteen, $5 per visit. As a multi use facility, the pool is also used for Water Aerobics class, swim lessons, PT patients and rehab clients. Reservations are limited to one hour increments. Please call in advance to schedule pool use.
Full Schedule of Fitness Classes
Including: Circuit training, Pure Core, Yoga, Water Aerobics, Cycle, Functional Fitness for Seniors and more. Sport-specific training and conditioning for students, summer sports camps, Lakeside Dance classes, workplace wellness programs, nutrition counseling, health and wellness seminars. The Fitness Center is fully equipped with treadmills, ellipticals, Arc Trainers, spin bikes, rowing machines, upright bikes, recumbent bike, step machine, arm ergometer, bicep/tricep machine, Cybex circuit machines, free weights, Smith machine, TRX, kettlebells and stability balls.
Personal Training and Fitness Coaching
We offer personal training and fitness coaching for all fitness levels and ages. Individual, partner and group sessions are available. Our trainers have received certification from the National Acadamy of Sports Medicine (NASM) and work with a wide variety of clients. Lindsay Richards is a Certified Personal Trainer, Sports and Fitness Nutrition Specialist and Women's Fitness Specialist. Jeff "Hawk" Hawksley is a Certified Personal Trainer, Corrective Exercise Specialist and Performance Enhancement Specialist. Jeff has extensive experience with clients having previous injury, illness or ongoing chronic health issues.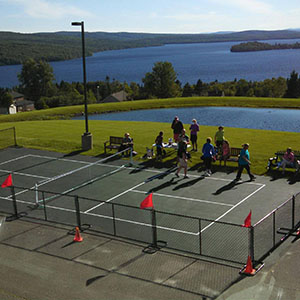 Water Aerobics
Water aerobics in our Therapy Pool is a great workout for all ages. This class is easy on your joints, warms you muscles, while giving you an amazing workout.
Pickle Ball
Pickle Ball courts inside and out, a great way to gather friends and receive a healthy workout at the same time. Enjoy the view as you fine tune your skills for speed, balance, agility and fun! Courts are rented hourly and all ages are welcome.
Gym H0urs
Monday-Friday: 5am - 7pm | Saturday & Sunday : 8am - 2pm