Stars & Stripes 5k and 10k Run/Walk event Rangeley Maine
Stars & Stripes 5k and 10k Run / Walk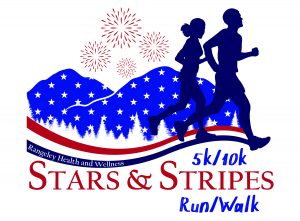 Join us for a Red, White and Blue Run to celebrate Independence Day. Open to serious runners and walkers alike, the course will take you along paved and gravel rounds through the town of Rangeley where you will have scenic views of both the wilderness and the lake. The course includes some gradual inclines up small hills, some downhill running, as well as some flat surface areas along the route. The race will start and end at the chamber of commerce building located in the center of town.
Leashed dogs are welcome to join, but strollers are discouraged due to challenging terrain. The first 25 registrants receive a free shirt. All registrants will receive a Swag Bag of goodies with each registration fee. Awards for first female and male finishers will be presented for each distance, and first child (under 10) finisher will be awarded. Music and after party will commence immediately following the run. Patriotic themed outfits are encouraged!
To register, call the fitness center or complete the form found here: Registration-form
Mail the completed form to:
Rangeley Health and Wellness, PO Box 722, Rangeley, Maine 04970.
Or Complete the online form below:

WAIVER: I have read this waiver and in consideration of your acceptance of the entry to the Stars and Stripes 5K or 10K run or walk I do hereby, for myself, my heirs, executors, and administrators, waive and release and discharge the hosts of sponsors or their respective agents, representatives and employees, from all claims, demands, and rights of causes of action, present or future whether known or anticipated, resulting from or arising out of, either directly or indirectly, my participation in this community run/walk event. I attest that I am physically fit and sufficiently trained for the completion of this race and fully understand the risks involved in this event. I also hereby grant full permission to use my photographs, video tapes, recording or other record of this event for any legitimate purpose.